Rhea Keyes' hard work has clearly paid off as she has been awarded her Business Administation NVQ with distinctions in all categories – project, portfolio and knowledge.
She joined Murraywood Construction in September 2019 and started her Business Administration NVQ L3 Apprenticeship in January 2020.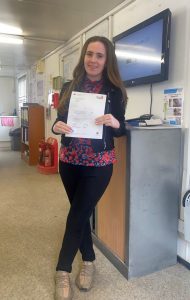 Rhea has worked hard to complete this phase of her further education and it is impressive that she maintained momentum when Covid-19 hit.
Even with reduced visits from tutors, furlough and tutor changes she battled through, staying positive and focussed.
She was proactive in her own learning, taking advantage of the online resources available to further her own education and expand her knowledge.
We're all very proud of Rhea and can't wait to see her progress even further and be an even more valuable part of the team.