Murraywood Construction are pleased to announce a new contract award for the new Government office block on First Street in Manchester.
On this project we have been appointed to complete a bulk excavation and the sub-structure.
We will also be installing drainage as well as a slip formed core to roof level and other floors.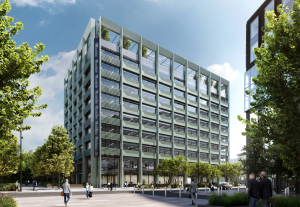 Staff in government departments including Highways England are having to relocate to this First Street location as their existing offices in the Piccadilly Gate building are being torn down to make way for Manchester Piccadilly's HS2 station.
700 civil service roles will also be relocating from London to the 130,000 sq ft, nine storey office block in the up and coming vibrant Manchester neighbourhood.
Sustainability and environmentally friendly construction is fast becoming an expectation in the industry and this project does not disappoint.
The office building will be the most sustainable building in operation throughout the whole of Manchester City Centre which is something we're proud to be a part of given we as a company are committed to achieving net carbon zero.