Our Apprentice Engineer, Tom Muse, recently attended Holy Trinity CofE Primary School in Blackley as part of the What's My Job? event organised by Manchester City Council.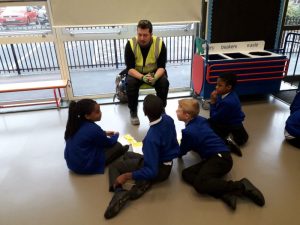 Delegates from different businesses attended in their everyday workwear with props from their job and the children asked them questions in an effort to figure out what their job was.
Muse, who studies at Wigan and Leigh University Centre for his HNC qualification, took his prism into the school and answered their questions about what it was, what it is used for and then they tried to guess the job.
The event was a great success as it gave the children a chance to see and learn about the job roles they probably hadn't come across before.